Bishart Kids Club 2022 Quarter 2 Unboxing
The Bishart Kids Club is a monthly membership for fans, friends and foes of comic creator Ben Bishop. We open the second quarter of 2022 box.
The Bishart Kids Club is a monthly membership for fans, friends and foes of comic creator Ben Bishop. Justin Soderberg unboxes the second quarter of 2022 box.
This quarter the BKC box includes a BKC "D.A.R.E." bumper sticker, BKC "Lowglow" sticker, The Last Ronin #3 Michelangelo design 11×17″ print, BKC Bishmania t-shirt, and "Oroku Hiroto" The Last Ronin bookshelf box.
As a bonus this quarter, Ben included an exclusive metal cover variant of The Last Ronin #5. This book is limited to only 250 copies and is only available to members of the Bishart Kids Club.
Check out the unboxing video above for more!
What is Bishart Kids Club
Established sometime around 2017 with a diehard handful of Ben's biggest supporters, the Bishart Kids Club today is constantly growing and evolving into something not even Ben could have predicted. Set up as a monthly recurring membership fee, with bisboxes full of club only exclusive items shipping quarterly, the very best part about the club, is the people within it…Between the incredible 24/7 members only group chat, exclusive club only comic variants, comic con meetups, dinners, studio visits and wing nights with group members from all over the world, real lifelong friendships among fellow collectors and comic fans have been born and the Bishkids have become a real family – warts and all, just like your real family!
How The Bishart Kids Club Works
Bishart Kids Club memberships range from $5 – $200 a month. Every single Bishkid is invited, and encouraged to be a part of the Bishart Kids Club members only group chat, receives a discount code for 10% – 20% off (depending on their level) for use on almost anything and everything in Ben's Bishstore, as well as at comic cons. Not only will Bishart Kids Club members get early access on Bishstore exclusive sale days, they also have a discounted price to begin with. In addition to your savings you'll also be given a free signed print anytime you see Ben at a show and be entered into every original art raffle he holds automatically, whether you buy a ticket or not!
Whats In The Box?
Every Bishkid $25 and up will receive a quarterly Bishbox every three months of active membership. Bishboxes are full of club only exclusive items with insanely low production runs that you can only get here, made specifically for each quarter's Bishbox. Bishkids are the only ones with access to what's inside and new members who may have missed out on previous boxes can sign into the members only shop, where they can individually grab past Bishbox exclusives while supplies last.
Who is Ben Bishop?
Bishop is a comic creator from Maine. Ben created the world's very first Split Decision Comic, The Aggregate. A comic that puts you in the drivers seat with four beginnings, seven endings and twenty-five choices in between. The Aggregate was nominated for a 2018 Ringo Award for best original graphic novel, the only self published book on the ballot. The Aggregate Book 2 is currently in production.
Ben is also the series artist on Kevin Eastman's (co-creator of the Teenage Mutant Ninja Turtles) newest comic, Drawing Blood. The second book in the Drawing Blood series is due out soon.
In addition to being a frequent cover artist for IDW Publishing's TMNT series, Ben was the artist for the TMNT Raphael Macro Series, Target R.
Throughout all this Ben has also been worked on characters like the Bloodshot for Valiant Entertainment, Savage Dragon for Image comics, Batman, Transformers, Gi Joe, and more.
Visit Ben's website at Bishart.net and follow him on Instagram and Twitter.
TMNT Creators, Legends, Actors Ascending Upon Granite State Comicon
The entire creative team from The Last Ronin plus other TMNT creators will be signing autographs and taking photos.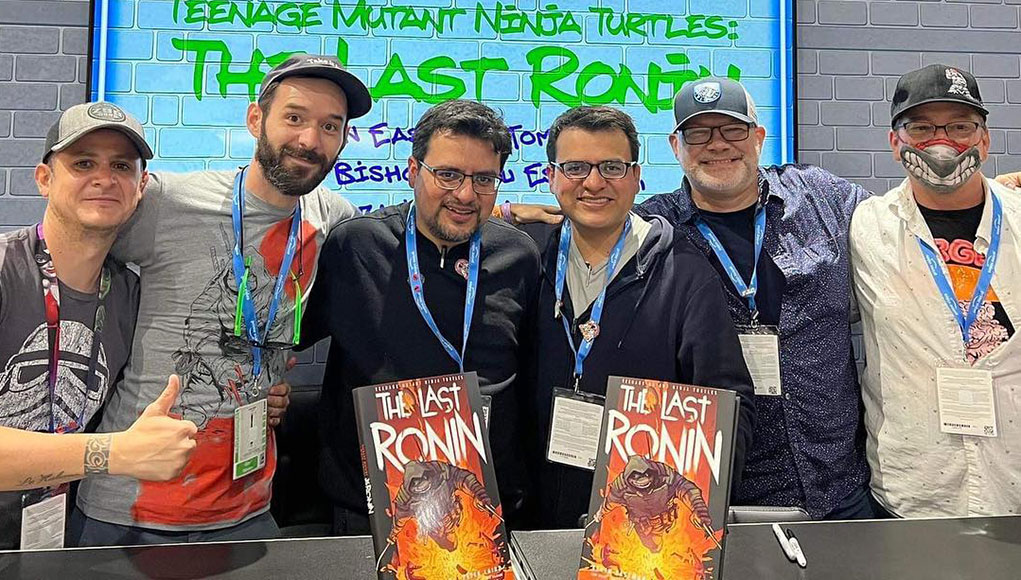 One benefit in attending comic conventions is meeting your favorite comic creators. Rarely do you get the opportunity to meet an entire creative team of a series. However, sometimes the comic gods shine upon you and if you're a TMNT fan this is a great opportunity.
TMNT: The Last Ronin Creative Team
The Granite State Comicon welcomes creators of TMNT: The Last Ronin to their 20th anniversary event. Writers Kevin Eastman and Tom Waltz; artists Esau Escorza, Isaac Escorza, and Ben Bishop; plus colorist Luis Antonio Delgado will be in attendance from September 16-18, 2022 in Manchester, N.H. at the DoubleTree by Hilton.
The Last Ronin wrapped up the five-issue miniseries in April. The hardcover trade released in June to widespread success landing the book on the New York Best Sellers list. The popularity of the miniseries allowed the creative team and IDW Publishing to announce a second limited TMNT series entitled "The Last Ronin: The Lost Years" at the San Diego Comic-Con in July. The first issue is set to release in November with Eastman, Waltz, Bishop, and Delgado returning.
Who is the Last Ronin? In a future, battle-ravaged New York City, a lone surviving Turtle embarks on a seemingly hopeless mission seeking justice for the family he lost. From legendary TMNT co-creators Eastman and Peter Laird, get ready for the final story of the Teenage Mutant Ninja Turtles, three decades in the making! What terrible events destroyed his family and left New York a crumbling, post-apocalyptic nightmare? All was revealed in this climactic Turtle tale that sees longtime friends becoming enemies and new allies emerging in the most unexpected places. Can the surviving Turtle triumph? You'll have to read the miniseries to find out which turtle ends up as The Last Ronin.
The series was such a hit, Magnus Edlund created an animated short featuring a very heart-wrenching scene from the series.
TMNT Comic Artists, Actors, Filmmakers
In addition to TLR creative team, TMNT creators such as comic book artists Mateus Santolouco, Jim Lawson, Steve Lavigne, and Freddie Williams II are attending Granite State Comicon with TMNT series showrunner and executive producer Ciro Nieli. Actors Judith Hoag (April in 1990 Teenage Mutant Ninja Turtles) and Greg Cipes (Mikey in TMNT series) will also be taking photos and signing autographs.
As a bonus, Teenage Mutant Ninja Turtles #1 negative prints used in production of the groundbreaking original series will be on display.
Eastman and Bishop will also join the rest of their Drawing Blood and Radically Rearranged Ronin Ragdolls creative team of David Avallone and Troy Little to sign the limited series.
If you are a fan of TMNT comics and films, attending Granite State Comicon is must. Tickets for the Giant-Size 20th Anniversary Con can be purchased at granitecon.com.
Rogen's TMNT Movie Gets Title, 2023 Release Date
Seth Rogen's Teenage Mutant Ninja Turtles: Mutant Mayhem will release on August 4, 2023.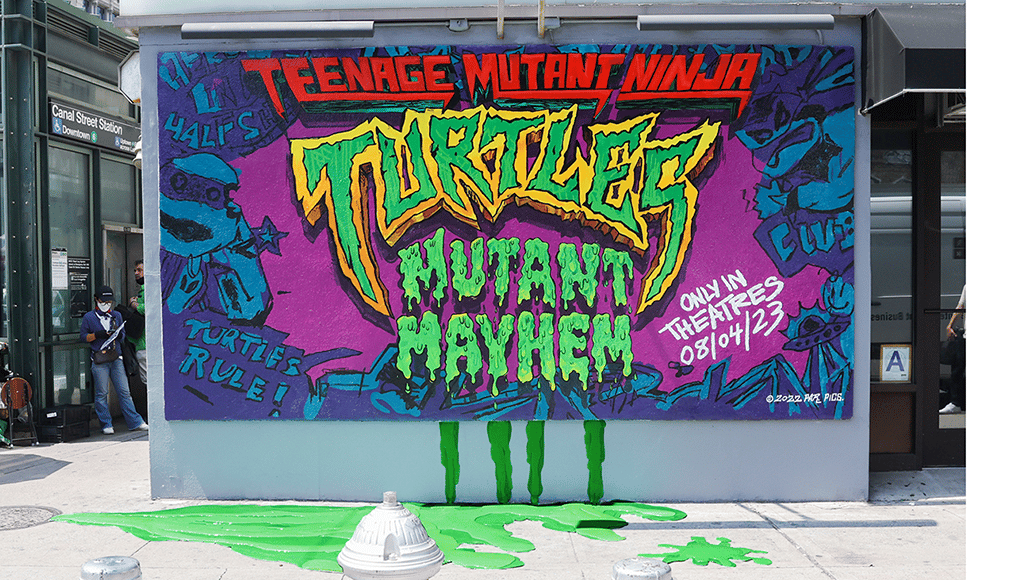 Seth Rogen's TMNT movie now has an official title and release date. The CG-animated feature film will be titled Teenage Mutant Ninja Turtles: Mutant Mayhem and will hit theaters on August 4, 2023. The film also gets a new logo featuring homage to the comic book roots.
The TMNT reboot announced by Paramount and Nickelodeon in 2020 will attempt to hone in on the teenage element of the characters. The film will be directed by Jeff Rowe (The Mitchells vs. the Machines, Gravity Falls) from a screenplay by Brendan O'Brien (The House, Neighbors). Rogen, Evan Goldberg, and James Weaver are producing the film through their company, Point Grey Pictures.
No cast has been announced, but for the first time in the franchise's history, Rogen revealed that all four turtles will be voiced by actual teenagers, as opposed to adult actors, in order to keep the authenticity of the teenage element to the TMNT film on his behest. During an interview from IGN at San Diego Comic-Con in July 2022, TMNT co-creator Kevin Eastman later expressed his support to the reboot, and praised Rogen on his vision of the film for emphasizing the team on being teenagers.
Animation services will be provided by Mikros Image and Cinesite. TMNT: Mutant Mayhem features a 2D-style CG animation similar to Sony's Spider-Man: Into the Spider-Verse, and inspired by sketch drawings Rowe drew on his school notebook as a teenager.
The Lost Years: The Last Ronin Riveting Story Continues
Kevin Eastman, Tom Waltz, Ben Bishop, and Luis Antonio Delgado are back for The Last Ronin – The Lost Years!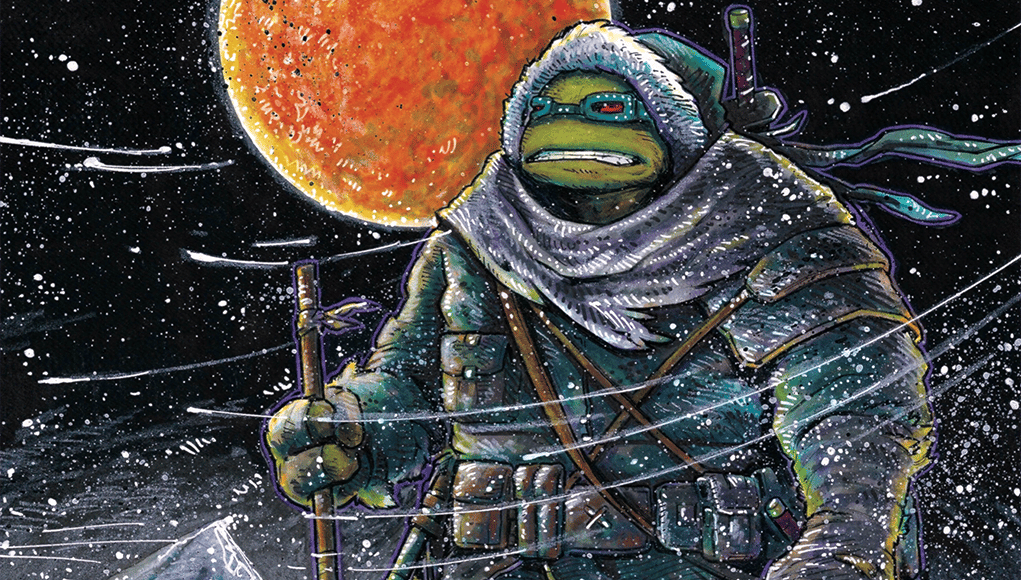 Just when we thought we saw the end of The Last Ronin, the crew from the five-issue miniseries announces The Lost Years at the San Diego Comic-Con on Saturday as part of the Teenage Mutant Ninja Turtle "Ronin-verse."
The Last Ronin – The Lost Years expands on the smash-hit The Last Ronin over a five-issue miniseries with the first issue scheduled to be out in November 2022. Kevin Eastman (TMNT, Drawing Blood), Tom Waltz (TMNT, Silent Hill), Ben Bishop (The Aggregate, Drawing Blood), and Luis Antonio Delgado (TMNT, Ghostbusters) return from the original series with S.L. Gallant (G.I. Joe) joining the fray.
"Continuing to expand on an idea Peter Laird and I had 35 years ago with this incredible creative team has been the adventure of a lifetime," Eastman said in a quote obtained from io9. "To continue exploring and telling stories within the Last Ronin universe couldn't possibly be more exciting for me. I'm so thrilled we get to stay and play here for a while and I can't wait to share everything we have planned. Buckle up, TMNT fans! We've got two turtle universes that are both about to get seriously awesome!"
The Last Ronin series followed a lone surviving Turtle in a future NYC far different than the one we know today. The Last Ronin goes on a seemingly hopeless mission to obtain justice for his fallen family and friends. Layouts were done by Eastman with inks by Esau and Isaac Escorza, along with Bishop. Eastman, Laird and Waltz were responsible for the story.
Although the ending of the original series was fairly concrete, Eastman and his creative team have found a way in The Lost Years to examine more of the Ronin-verse. "As time passed, we began to realize that Last Ronin's story was so much bigger than we had originally anticipated–past, present, and future," Waltz explained in a statement obtained from io9. "There's so much more about this world that we still want to share with our fans."
This team-up between Eastman and Bishop is not the first time. As stated already the two worked together on The Last Ronin, but also have teamed up on Eastman's Kickstarter released comic "Drawing Blood" where Bishop is the main artist. Now, the amazing creative team returns for The Last Ronin – The Lost Years.
During the announcement, the panel showed a cover of The Lost Years with lines done by Bishop and painted over by Eastman in a winter scene. The artwork on The Last Ronin has been spectacular and it will continue in The Lost Years.
Due to the pandemic and a number of other factors, it took almost 18 months to release the five issue of The Last Ronin with fans having to wait 3-4 months in-between issues. It will be interesting to see what the timeframe of releasing The Lost Years is after the first issue hits shelves in November.