#48: Thor Movie Reviews & Thor Love and Thunder Preview
This week on Capes and Tights, Adam Morrisette and Justin Soderberg discuss the first three Thor films and previewing Love and Thunder.
The first film in the series was released on May 6, 2011 as the fourth film in the Marvel Cinematic Universe, as part of Phase I. During its run in the theaters the movie amassed $449.3 million on a $150 million budget.
Thor was directed by Kenneth Branagh with a story by J. Michael Straczynski and Mark Protosevich and a screenplay by Ashley Edward, Miller Zack, and Stentz Don Payne. The origin story starred Chris Hemsworth as Thor; Natalie Portman as Jane Foster; Tom Hiddleston as Loki; Stellan Skarsgård as Erik Selvig; Colm Feore as Laufey; Ray Stevenson as Volstagg; Idris Elba as Heimdall; Kat Dennings as Darcy Lewis; Rene Russo as Frigga; Anthony Hopkins as Odin; Tadanobu Asano as Hogun; Josh Dallas as Fandral; and Jaimie Alexander as Sif. Additionally, Clark Gregg reprises his role as S.H.I.E.L.D. agent Phil Coulson from the Iron Man films.
The Dark World hit theaters on November 8, 2013 as the eighth film in the MCU and part of Phase II. The film reached $644.8 million with a budget around $150-170 million.
The sequel was directed by Alan Taylor with a story by Don Payne and Robert Rodat and screenplay by Christopher Yost, Christopher Markus, and Stephen McFeely. Returning for the second film was Hemsworth, Portman, Hiddleston, Skarsgård, Stevenson, Elba, Dennings, Russo, Hopkins, Asano, and Alexander. Joining the crew is Christopher Eccleston as Malekith; Adewale Akinnuoye-Agbaje as Algrim / Kurse; and Zachary Levi as Fandral.
Ragnarok, arguably the most well-liked of the first three films, was released on November 3, 2017 as part of Phase III and the 17th film in the MCU. The third film has also been the most profitable of the films with $854 million in the box office on a $180 million budget.
Hemsworth, Hiddleston, Elba, and Hopkins returned for the film with Cate Blanchett as Hela; Jeff Goldblum as Grandmaster; Tessa Thompson as Scrapper 142 / Valkyrie; Karl Urban as Skurge; and Mark Ruffalo as Bruce Banner / Hulk all joining the cast. Taika Waititi was at the helm as director and the film was penned by Eric Pearson, Craig Kyle, and Yost. Waititi also voice the role of Korg.
Thor will be the first MCU character to get a fourth solo film with the release of Thor: Love and Thunder on July 8, 2022. The film was also directed by Waititi, but this time around he also had the job of writing the movie.
Love and Thunder will star once again Hemsworth, Portman, Thompson, Alexander, and Waititi. Joining this time around is Christian Bale as Gorr the God Butcher; and Russell Crowe as Zeus. Additionally, the Guardians of the Galaxy are featured in the film, with Chris Pratt, Pom Klementieff, Dave Bautista, Karen Gillan, Vin Diesel, and Bradley Cooper reprising their respective roles as Peter Quill / Star-Lord, Mantis, Drax the Destroyer, Nebula, Groot, and Rocket, alongside Sean Gunn as Kraglin Obfonteri. Goldblum reprises his role as the Grandmaster from Ragnarok.
Look for the Capes and Tights review of Love and Thunder following its release.
Check our conversation with Paul Eaton of Galactic Comics and Collectibles on Variant Comic Covers.
Need some back issues to fill a gap in your collection? Find comics here!
#55: Bob Tkacik – Seven Years in Darkness Variant
What a special episode 55 featuring comic book creator and artist Bob Tkacik as well as Galactic Comics and Collectibles owner Paul Eaton to discuss the store-exclusive Seven Years In Darkness variant.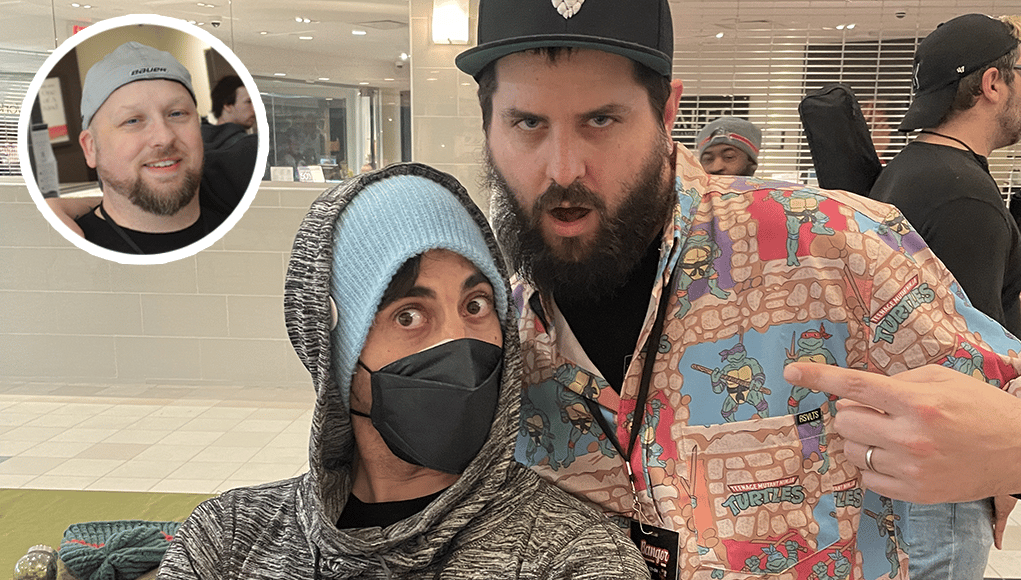 What a special episode of the Capes and Tights Podcast featuring comic book creator and artist Bob Tkacik as well as Galactic Comics and Collectibles owner Paul Eaton to discuss the store-exclusive Seven Years In Darkness #1 variant.
Tkacik is the artist on the Galactic Comics and Collectibles and Capes and Tights store-exclusive variant of Joseph Schmalke's Seven Years In Darkness #1. Tkacik is a local Maine artist and creator working on his first book entitled Good Boy Paws which he funded via Kickstarter and is due out soon.
Eaton owns the aforementioned Galactic Comics and is a regular on the Capes and Tights Podcast.
When Eaton was tossing around the idea of hooking up with Schmalke to sell a store-exclusive variant he approached us at Capes and Tights asking if we would go in together on the project. Of course we couldn't say no to a Schmalke book. After talking back and forth, Eaton decided the best course of action was to hire Tkacik to draw the cover.
The store-exclusive variant cover issues of Seven Years In Darkness #1 are only available at Galactic Comics and Collectibles (547 Hammond Street, Bangor, ME) or galacticcomicsandcollectibles.com. This cover is limited to 100 total copies (including comps) with 75 regular variant covers and 25 metal variants. The regular cover Seven Years In Darkness #1 is also available.
Schmalke's solicitation for Seven Years In Darkness
Seventy-two children are conscripted to the Academy of Black Magic for seven years where they'll study the dark arts in a setting devoid of the sun. Only seven will survive to see daylight again.
Schmalke is an artist and comic creator known for his work on We Don't Kill Spiders, The Electric Black, Cherry Blackbird, Murder Hobo, and so much more. He is also the Co-Publisher, along with Rich Woodall, at Black Caravan an imprint at Scout Comics.
#55: Bob Tkacik – Seven Years in Darkness #1 Variant
#54: Steve Mardo – Comic Book Artist
The Capes and Tights Podcast welcomes Steve Mardo to the show for episode 54. Mardo is a comic book artist and creator from New England.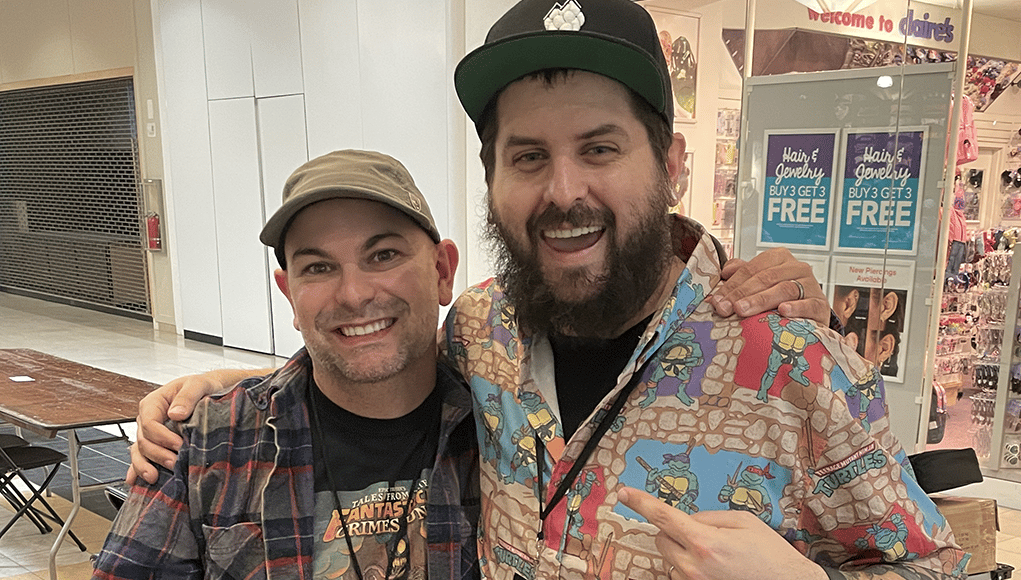 The Capes and Tights Podcast welcomes Steve Mardo to the show for episode 54. Mardo is a comic book artist and creator from New England.
Mardo is the artist for Black Caravan's Epic Tavern – Tales From The Fantastical Crime Unit from writer Shawn French with colors by Teenage Mutant Ninja Turtles legend Steve Lavigne. The one-shot is based off the Epic Tavern video game created by French and Hyperkinetic Studios, available in beta on Steam.
"Angel is a Centaur Foal." Hard-boiled detective Victor Marshall finds himself partnered with idealistic young necromancer Emilia Mortalis and her crew of undead animal pals to investigate the disappearance of a young centaur in this official adaptation of the video game Epic Tavern. The series follows the adventures of an overworked agency in the fantasy realm of Beor tasked with investigating crimes committed by supernatural and mythological creatures. Hidden within are clues for unlocking bonus content in Epic Tavern, including a new Final Boss battle and the most powerful artifact in the game.
Steve Mardo has also worked on Joseph Schmalke's Murder Hobo comic book and more. His work has also been used for the Bangor Comic and Toy Con's promotion poster in 2022. Look for more from Mardo coming in 2023 with projects yet-to-be announced. Steve will be at NecronomiCon in Providence, RI from August 18-21, as well as the 2022 Small Press Expo in Bethesda, Maryland from September 16-18.
Episode #54: Steve Mardo – Comic Book Artist
#53: David Harper Returns – SKTCHD and Off Panel
David Harper returns to the show to discuss comics, SKTCHD.com, Off Panel and more!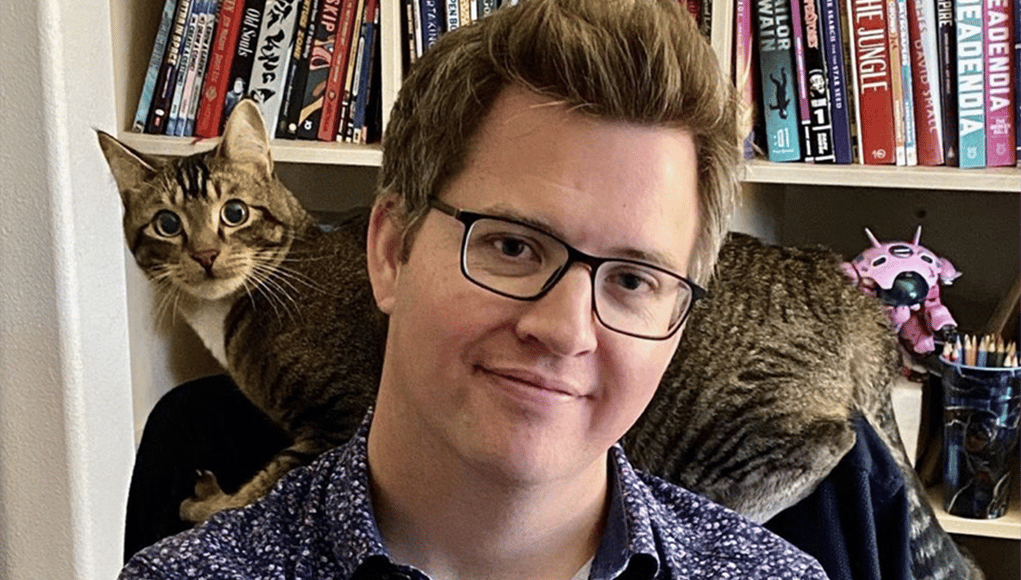 David Harper returns to the Capes and Tights Podcast for episode 53 to discuss the wonderful, crazy and sometimes downright confusing world of comic books. Harper is the founder and owner of SKTCHD and the Off Panel Podcast.
SKTCHD is a subscription based comic book site designed to approach comics and the world around them from a unique perspective, taking deeper, research-driven dives into the stories behind the comics and the people who make them. It is also meant to be a community of people who don't just want to look at the stories in comics, but extending into the ones that are just as interesting taking place outside of them. More than anything, it is a place where comics and their creators are celebrated, and where we're reminded that it takes a lot of people to make these stories we love.
Off Panel is a weekly comics interview podcast hosted by Harper that gets the story behind the stories and creators we love, as well as the broader comic book industry. David has hosted over 350 episodes with guests such as Brian K. Vaughn (Saga), James Tynion IV (Something Is Killing The Children, The Closet), Tillie Walden (Clementine), Charles Soule + Ryan Browne (Eight Billion Genies, Curse Words), Skottie Young (I Hate Fairyland, Twig), Chip Zdarsky (Public Domain, Daredevil), and many more.
Not only does David host comic book creators, Harper invites comic store owners, distributors and special guests to discuss the inner workings comic book sales. His podcast is truly an all encompassing comic show. If you are a fan of comic books, this podcast is a must listen.
The Capes and Tights crew discusses many comic book topics including single issue comics, digital comics, Substack, Patreon, a little basketball and so much more.
Harper hails from the great State of Alaska, he last appeared on the podcast back in episode 12.
David's long-form and in-depth pieces on his website are an excellent source for comic book knowledge. Subscribe today for a seven-day free trail and check out the content.
EPISODE #53: David Harper – SKTCHD and Off Panel