Vanish, Crashing and Other September 2022 Comic Releases
We breakdown a list of a few new comic series we are excited to read including Vanish #1, Crashing #1, and more!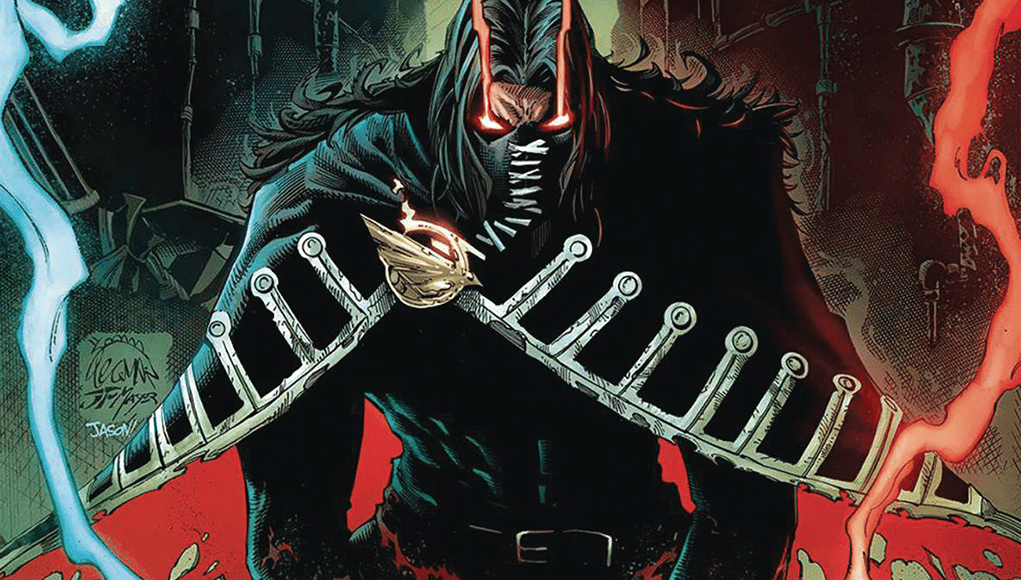 September is quickly approaching and with four new comic book days it can be daunting to pick which books to buy. We breakdown a list of a few new comic series we are excited to read including Vanish #1, Crashing #1, and more!
Of course, there are many on-going books that have release dates in September, but we are focusing on new series releases. Most of our selections come from independent publishers, but you may also see books from Marvel and DC Comics as well. This list is also subjective to what we are interested in reading.
Lastly, release dates are always subject to change due many different reasons. We will do our best to update this list as we are made aware of these changes.
LAST LINE #1
Release Date: September 7, 2022
Publisher: AfterShock Comics
Writer: Richard Dinnick
Artists: Jose Holder
Sally Hazzard just had the worst day of her life: While on a usual shift as a driver for the tube, the unthinkable happened when a man is pushed in front of her train and killed.
But…there's something strange here. Sally swears the man was pushed but her supervisors, witnesses and the cc tv footage all show the man falling on his own. Sally cannot let this go, and her investigation into the murder introduces her to an MI-6 agent named Edward Tarn also curious about the so-called accident.
Together, Sally and Ed discover an off-world explanation for the assassination, plus an alien invasion and the craziest plot twist of all: an interplanetary travel system buried deep beneath the London Underground!
Written by Richard Dinnick (Doctor Who: The 12th Doctor, Thunderbirds are Go!, Lost in Space: Countdown to Danger) and drawn by Jose Holder (X-Men: Apocalypse, Assassin's Creed: Origins, Rainbow Six Siege).
CEX Releasing Schmalke's Seven Years In Darkness
Joseph Schmalke's newest creation is heading to CEX Publishing for release in 2023. The series, Seven Years In Darkness, was written, illustrated and colored by Schmalke.
Joseph Schmalke's newest creation is heading to CEX Publishing for release in 2023. The series, Seven Years In Darkness, was written, illustrated and colored by Schmalke.
Seventy-two children are conscripted to the Academy of Black Magic for seven years where they'll study the dark arts in a setting devoid of the sun. Only seven will survive to see daylight again.
"After an initial meeting with CEX I knew that they were not only going to help me grow as a creator but that they in fact really love and understand the comic book medium," said Schmalke. "It didn't hurt that they were immediately taken with Seven Years In Darkness and I knew I found a home for my most ambitious project yet."
Schmalke originally released the debut issue via a select few local comic book shops and his online store in June while searching for a home to publish the entire series. Around 10 stores jumped on board for store exclusive covers, including Galactic Comics and Collectibles with Capes and Tights, The One Stop Shop, and the Australian shop Dee's Comics. CEX will now release the originally self-publish comic in March 2023 with four issues expected through the end of the year, released bi-monthly.
"When Joe pitched me on Seven Years in Darkness, as an evil version of Harry Potter meets Battle Royale, where 72 kids begin the program, but only 7 survive, I was in." said Andy Schmidt, Publisher CEX Publishing. "This series kept me on my feet, with all the twists and turns, as the series progressed. I can't wait for audiences to read it for themselves."
Ashcans of the first CEX issue will be available at the New York Comic Con from October 6-9, 2022.
Schmalke is also the creator of titles Murder Hobo, We Don't Kill Spiders, The Electric Black, and Cherry Blackbird. He has also contributed to Phantom Starkiller, Count Draco Knuckleduster and other titles. The Maine artist has illustrated a number of variant covers over the past few years which are available at his comic convention booths or during his monthly online store openings.
Keep an eye out for the first issue of Seven Years In Darkness from CEX coming in 2023 as part of Diamond and Lunar Distribution's December catalogs. The story and artwork is well worth the purchase. To make sure you get your copy, be sure to inform your local comic book shop you are interested to make sure they order the book!
Want to be the first to know? Join Schmalke's Patreon!
Who is CEX Publishing?
CEX is driven to support comics creators, retailers, and fans. We believe that comics are more than just a reading experience—they're a community. They're enthusiastic and original and they're authentic. And we are, too.
Our sister company, Comics Experience, has been the industry's leading comic school for more than a decade—churning out popular creators, both writers and artists, as well as talented editors, publishers, and comics marketers. This publishing company is no different.
The focus of CEX, is on you—the fan, the creator, the retailer. We want to be successful and we need to be in order to bring more great content to market, but our goal is promoting the importance of great storytelling, diverse content, and fostering an engaged and positive community.
Ringo Awards 2022 Nominees Announced
James Tynion IV, Chris Miskiewicz, and Jeff Lemire lead the way in this year's Ringo Awards nominations.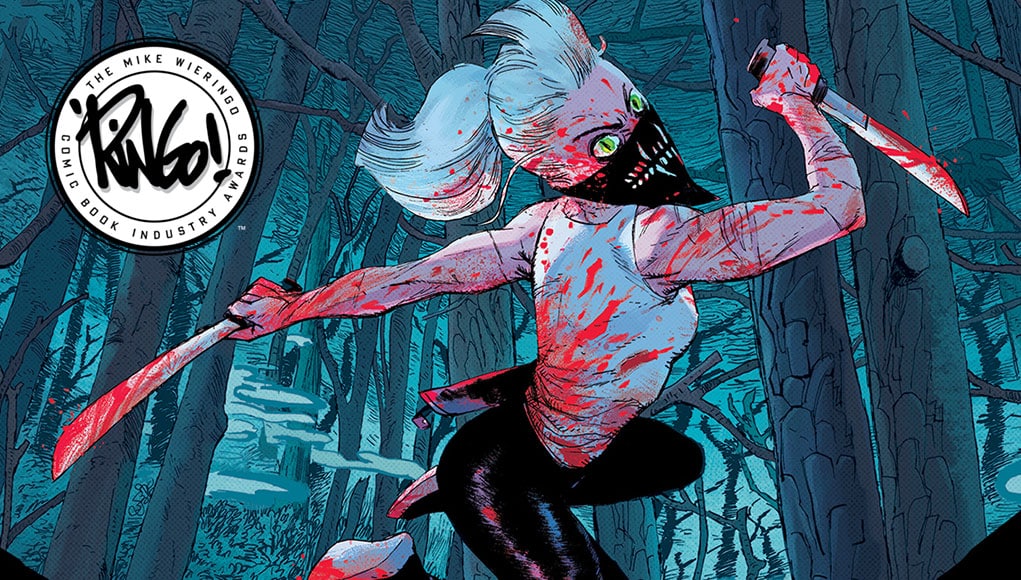 The 2022 Mike Wieringo Comic Book Industry Awards, also known as Ringo Awards, nominees have been announced, with voting open to industry professionals. The fifth annual awards will be presented at Baltimore Comic-Con in October.
Writers James Tynion IV and Chris Miskiewicz lead the way with three nominations respectively. Tynion nabbed two of his Ringo Awards nominations for his work on the Boom! Studios' series Something Is Killing The Children, while Miskiewicz gets nods for for Elvis: The Official Graphic Novel and This Is Where We Fall.
Nominations for the 2022 Ringo Awards were selected through a public submissions process and the awards jury. Fan-Only Favorites from the nomination ballot will be presented at the awards ceremony, as well as The Hero Initiative Lifetime Achievement Award and The Dick Giordano Humanitarian Award.
The Ringo Awards are named after Michael Lance "Mike" Wieringo (June 24, 1963 – August 12, 2007), who often signed his work Ringo, is an American comics artist best known for his work on DC Comics' The Flash, Marvel Comics' Fantastic Four, and his co-creation Tellos.
2022 Ringo Awards Nominees
Best Cartoonist (Writer and Artist)
Jeff Lemire
Sas Milledge
Eric Powell
Caytlin Vilbrandt
Thomas Zahler
Best Writer
Jeff Lemire
MerryWeather
Chris Miskiewicz
Tom Taylor
James Tynion IV
Best Artist or Penciller
Filipe Andrade
Juan Cavia
Tyler Crook
Jeff Edwards
Jock
PokuriMio
Gabriel Rodriguez
Best Inker
Sal Buscema
Adelso Corona
Eber Ferreira
Jonathan Glapion
Sandra Hope
Mark Morales
Norm Rapmund
Best Letterer
Andworld Designs
Clayton Cowles
Crank!
Taylor Esposito
DC Hopkins
Hassan Otsmane-Elhaou
Best Colorist
Juan Cavia
Bruna Costa
Dijjo Lima
Dave McCaig
K. O'Neill
Sandro Pacucci
Santiago R. Villa
Best Cover Artist
Simone Di Meo
Jeff Edwards
Stephanie Hans
Javan Jordan
Jeff Lemire
Peach Momoko
Sana Takeda
Best Series
Locke & Key/The Sandman Universe: Hell & Gone (IDW Publishing)
Many Deaths of Laila Starr (Boom! Studios)
Something is Killing the Children (Boom! Studios)
Stray Dogs (Image Comics)
Syphon (Image Comics)
Best Single Issue or Story
Commander RAO #1 (Scout Comics)
Mamo #1 (Boom! Studios)
The Many Deaths of Laila Starr #3 (Boom! Studios)
Something is Killing the Children #20 (Boom! Studios)
Tales of the Night Watchman: Under the Surface (So What? Press)
Best Original Graphic Novel
Ballad for Sophie (Top Shelf Productions)
Blowback (self-published)
Did You Hear What Eddie Gein Done? (Albatross Funnybooks)
Djeliya (TKO Studios)
Save it for Later: Promises, Parenthood, and the Urgency of Protest (Abrams Books)
This is Where We Fall (Z2)
Best Anthology
DC Pride 2021 (DC)
SENSORY: Life on the Spectrum (self-published)
Smut Peddler Presents: Sordid Past (Iron Circus Comics)
You Died: An Anthology of the Afterlife (Iron Circus Comics)
Yule: Dreadful Tales for the Holiday Season (self-published)
Best Humor Comic
Cyclopedia Exotica (Drawn & Quarterly)
Love and Capes: In the Time of Covid (Maerkle Press)
Not All Robots (AWA Studios)
Twiztid Haunted High-Ons: Curse of the Green Book (Source Point Press)
Wicked Things (Boom! Studios)
Best Webcomic
Archie Comics: Big Ethel Energy (Archie Comics/Webtoon)
Batman: Wayne Family Adventures (DC/Webtoon)
I Escaped a Chinese Internment Camp (Insider)
Let's Play (Webtoon)
Lore Olympus (Webtoon)
Best Humor Webcomic
The Little Trashmaid (Tapas Media)
Love Advice from the Great Duke of Hell (Webtoon)
The Middle Age (middleagecomic.com)
Mr. Lovenstein (Tapas Media)
Rosebuds (GoComics)
Sarah's Scribbles (Tapas Media)
Best Non-fiction Comic Work
The Comic Book History of Animation (IDW Publishing)
Did You Hear What Eddie Gein Done? (Albatross Funnybooks)
Elvis: The Official Graphic Novel (Z2)
Hakim's Odyssey, Book 1: From Syria to Turkey (Graphic Mundi)
Run: Book One (Abrams Books)
Yummy: A History of Desserts (Random House Children's Books)
Best Kids Comic or Graphic Novel
Avatar: The Last Airbender – Suki, Alone (Dark Horse Comics)
Better Place (Top Shelf)
Just Roll With It (Random House Children's Books)
Nobody Likes You, Greta Grump (Fantagraphics)
Rainbow Bridge (Aftershock)
The Underfoot: Into the Sun (Oni Press)
Best Presentation in Design
Did You Hear What Eddie Gein Done? (Albatross Funnybooks)
EC Covers Artist's Edition (IDW Publishing)
Friday Foster: The Ultimate Collection (ABLAZE Comics)
Jim Lee's X-Men Artist's Edition (IDW Publishing)
Locke & Key: Keyhouse Compendium (IDW Publishing)
Stake (Scout Comics)
The Ringo Awards ceremony takes place at the Baltimore Comic-Con in October where the winners will be announced.
SDCC 2022: Spectacular Weekend of News
Trailers, Teasers, Reveals, News, and so much more from SDCC 2022.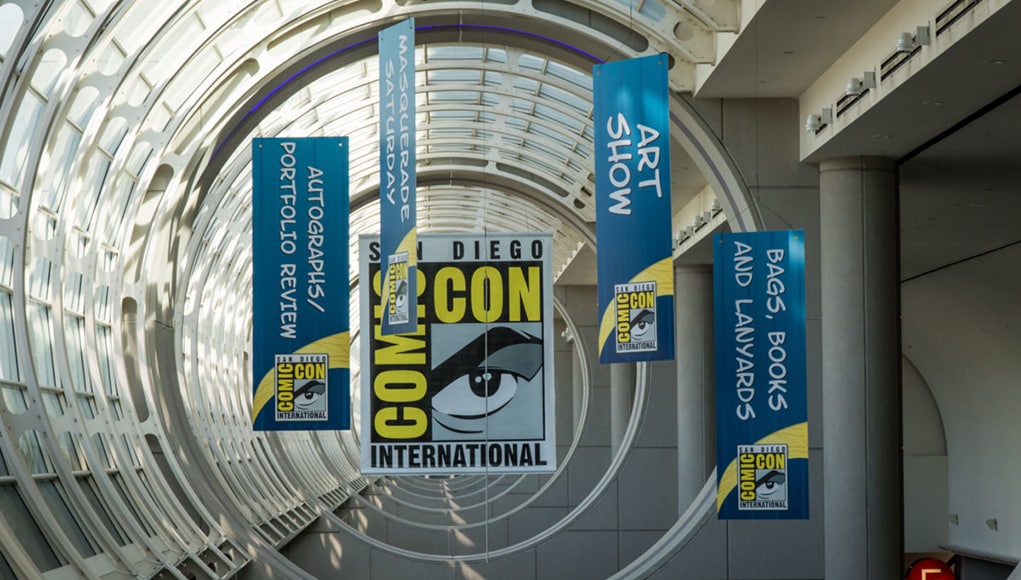 There has been so much information coming from the San Diego Comic-Con (SDCC) this weekend, including announcements surrounding the Marvel Cinematic Universe, The Walking Dead, Comic Books, and more. With all this news, lets touch on a few of the items.
MOVIES + TV
SDCC FIRST-LOOK NATIONAL TREASURE: EDGE OF HISTORY
On Thursday, Disney+ released a first-look teaser trailer for the television series sequel to the National Treasure films.
Lisette Alexis was cast in the lead role of Jess Morales with Catherine Zeta-Jones, Lyndon Smith, Zuri Reed, Jake Austin Walker, Antonio Cipriano and Jordan Rodrigues in supporting roles. Justin Bartha has also joined the series as a guest star to reprise his role from the original films.
Some of the series plot was revealed, as Morales embarks on a journey to save a long-lost Pan-American treasure and uncover her family's mysterious past.
BRZRKR STILL ON TRACK FOR FILM AND SERIES
Writers Keanu Reeves, Matt Kindt and artist Ron Garney discussed the record-breaking comic BRZRKR on Friday to a roaring crowd. During the panel they confirmed BRZRKR is not only getting the feature-film treatment, but also a series at Netflix. The film will be live-action, while the series will be Anime. Additionally, the creative team announced new BRZRKR comic book specials and one-shots are on the horizon.
The 10th issue in the hit 12-issue series goes on-sale at your local comic book shop on September 21, 2022.
THE GOON HEADING TO NETFLIX
The Goon comic book film adaptation is moving forward at Netflix with Patrick Osborne set to direct. The film, which is based on. the comic book by Eric Powell has been stuck in development hell for several years. The Goon was originally published by Dark Horse. Tim Miller is still connected to this project.
MARVEL'S MOON GIRL AND DEVIL DINOSAUR SDCC FIRST-LOOK
Disney shared a trailer for the upcoming Disney Channel Marvel series starring Alison Brie, Andy Cohen, Jennifer Hudson, and more.
I AM GROOT SDCC FIRST-LOOK
I Am Groot hits Disney+ with a series of five original shorts — following Baby Groot's glory days growing up, and getting into trouble among the stars — created by Ryan Little and directed by Kirsten Lepore. Vin Diesel and Bradley Cooper reprise their roles as Groot and Rocket Raccoon from Guardians of the Galaxy respectively.
Attendees of SDCC 2022 were the first to see the new trailer for I Am Groot. However, the trailer has now been released online for us all to enjoy.
MARVEL ANIMATION MAKES A SPLASH AT SDCC
What If…? season two gets a date of early 2023 and ordered for a third season. Marvel Zombies gives a look at the first season drawings. Spider-Man: Freshman Year is coming in 2023 with a second season ordered for 2024 entitled Spider-Man: Sophomore Year. X-Men '97 will hit Disney+ in 2023. Marvel animation is just getting started.
THE WALKING DEAD GETS RICK + MICHONNE SPIN-OFF SERIES
Originally set for three films, Rick Grimes will return to The Walking Dead Universe with a six-episode limited series on AMC along with Michonne. Andrew Lincoln and Danai Gurira will reprise their roles as Rick and Michonne respectively. The series is expected to air in 2023.
THE WALKING DEAD FINAL SIX EPISODES GETS PREMIERE DATE
The Walking Dead's ending will start on October 2, 2022 with the final six episodes of the 11th season.
SHAZAM: FURY OF THE GODS GETS SDCC TRAILER
DC and Warner Bros. released the first trailer for the upcoming Shazam sequel due out on December 21, 2022. The movie follows Dwayne Johnson's Black Adam release in October, Shazam's traditional comic book enemy.
The film will be set a few years after the first film with the Shazam Family as established heroes in the DC Extended Universe. The Daughters of Atlas are the villains of the story.
LOTS OF SDCC LOOKS AT BLACK ADAM
Dwayne Johnson displayed his full Black Adam costume as well as a SDCC trailer featuring the Justice Society's Atom Smasher, Doctor Fate, Cyclone, and Hawkman. Black Adam is due out on October 21, 2022. Additionally, Viola Davis will return as Amanda Waller.
MARVEL ANNOUNCES END OF PHASE 4 and ALL OF PHASE 5
Marvel Studios surprised us all with the news the Marvel Cinematic Universe Phase 4 will conclude with Black Panther: Wakanda Forever in November. Phase 5 will kick-off with Ant-Man and the Wasp: Quantumania in February 2023 and wrap-up with newly announced Thunderbolts film in November 2024. All Phase 5 films and series were announced.
MCU HUGE SDCC PHASE 6 NEWS
Following the announcement of the end of Phase 4 and the complete Phase 5, Marvel moved on to announce "The Multiverse Saga" will encompass all of Phase 4-6 with Phase 6 starting with Fantastic Four. Additionally, the sixth phase will include not one, but two Avengers films. Avengers: The Kang Dynasty and Avengers: Secret Wars in May 2025 and November 2025 respectively.
BLACK PANTHER: WAKANDA FOREVER GETS SDCC TEASER
In the powerful trailer we are introduced to Namor the Sub-Mariner as well his Atlantean family. Namor and the City of Atlantis make their debuts in the film and by the looks of it, have a major role to play. Wakanda, Atlantis, Kings, Queens, Black Panthers and much more make this epic conclusion to Phase 4 a much anticipated film.
Wakanda Forever will also debut the character of Ironheart prior to her television series in 2023 as part of Phase 5. We even get a quick glimpse of who is next in line for the title of Black Panther in the final seconds of the teaser trailer.
KANG and M.O.D.O.K. CONFIRMED FOR QUANTUMANIA
The Marvel Studios SDCC panel on Saturday night officially revealed Jonathan Majors as Kang The Conquerer, previously only known as "He Who Remains" from Loki season one. Majors was welcomed with cheers from the crowd and the excitement was palpable.
Kevin Feige, President at Marvel Studios and Chief Creative Officer at Marvel, also revealed M.O.D.O.K. (Mental/Mobile/Mechanized Organism Designed Only for Killing) will make an appearance in Ant-Man and the Wasp: Quantumania. Additionally, Bill Murray has been cast in an unknown role.
CHARLIE COX RETURNS IN DAREDEVIL: BORN AGAIN
Charlie Cox returns to the Daredevil costume in Daredevil: Born Again coming to Disney+ as part of the Marvel Cinematic Universe Phase 5 in 2024. Cox will be joined by his fellow Netflix star Vincent D'onofrio in the new 18-episode series.
GUARDIANS OF THE GALAXY, VOL. 3 SDCC UPDATES
The story is centered around Peter Quill (Starlord) attempting to win over Gamora who is the new leader of The Ravengers. However, Quill must rally his team around him to defend the universe along with protecting one of their own. A mission that, if not completed successfully, could quite possibly lead to the end of the Guardians as we know them. We will also learn more of Rocket's origin story, seeing him get taken as a baby raccoon and then raised by The High Evolutionary. The comedy appears to be more toned down in parts and overall the film appears to be a real tear jerker.
It was revealed Maria Bakalova is playing Cosmo the Space Dog and Chukwudi Iwuji is confirmed to be playing The High Evolutionary. Iwuji attend the panel dressed as his character.
COMICS
BATMAN / SPAWN CROSSOVER HAPPENING AGAIN
Jim Lee, Publisher and Chief Creative Officer of DC Comics, and Todd McFarlane announced on Friday night another Batman / Spawn crossover comic is in the works. They first crossed-over in 1994 for two issues, Spawn / Batman #1 was written by Frank Miller and drawn by McFarlane while Batman / Spawn: War Devil was written by Doug Moench, Chuck Dixon and Alan Grant and drawn by Klaus Janson.
Batman / Spawn #1 is set for release on December 13, 2022. A new trade paperback collection of Batman / Spawn: War Devil will release a few weeks prior on November 15.
MIGHTY MORPHIN POWER RANGERS / TEENAGE MUTANT NINJA TURTLES COMING BACK
The 1990s comic books are returning as BOOM! Studios and IDW Publishing have confirmed a return of Mighty Morphin Power Rangers / Teenage Mutant Ninja Turtles comic. Writer Ryan Parrott and cover artist Dan Mora will handle the comics.
TMNT: THE LAST RONIN SERIES CONTINUES IN THE LOST STORY
Teenage Mutant Ninja Turtles fans are getting more of The Last Ronin after the creative team announced the spin-off five-issue series at SDCC 2022. The Lost Story will see the return of writer/creator Kevin Eastman, writer Tom Waltz, artist Ben Bishop and colorist Luis Antonio Delgado. SL Gallant will join the art team. The series will hit shelves in November.
MARVEL TEASES NEW MASSIVE AVENGERS EVENT AND HICKMAN SERIES
Marvel's Next Big Thing panel at SDCC teased a ton of upcoming projects including the grand finale of Jason Aaron's Avengers saga and the next big project for Jonathan Hickman. Aaron will enter its final phase, Avengers Assemble, in November 2022, while the Hickman will be delving into the cosmic side of things.
---
Of course a ton more stuff was announced, revealed and talked about at this year's SDCC, this is just the tip of the iceberg.